Restaurant and Bar
Our Kitchen serves both European and Thai traditional dishes, Along with a permanent menu comprising signature dishes, you will also find a Specials menu that changes regularly depending on Chef's imagination. We also offer a large and varied selection of vegetarian dishes, and dishes suitable for children. Our Bar menu includes international classics and unique signature drinks ideal for an afternoon at the beach.
The restaurant and bar areas offer a wide variety of seating options that will suit all, from conventional seating within our two buildings to a large covered deck with cushions and low tables where you can look out over the sea. On the beach we have mats and cushions where you can sit and be part of the beach life. If you are dinning in a group of more than 6 please pre book your table especially in high season.
We have free wifi internet covering the restaurant, bar and part of the beach. Perfect for just checking your e-mail on your iPhone or doing a spot of work with your laptop. We don't have any computers to rent or borrow, so if you don't have your own device there are internet cafes close to the resort.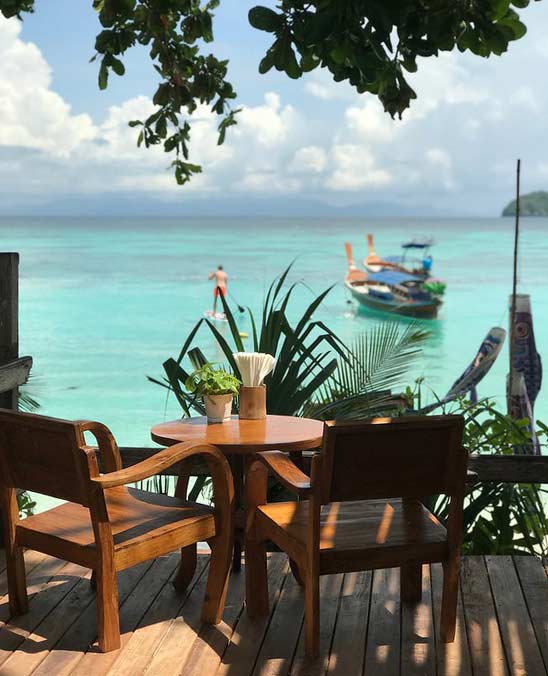 Intimate Romantic Dinners for 2 are set up directly on the beach with privacy and memorable views in mind. You can select vegetarian option and opt for a bottle of wine.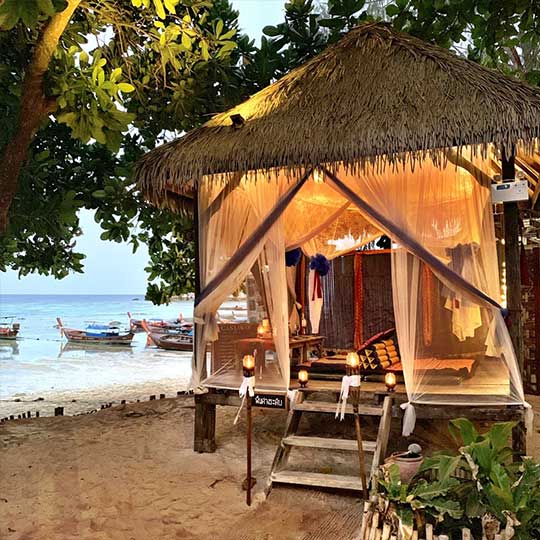 Set dinners on the beach, Cocktail Receptions with snacks and cocktails, Barbecues – all there to create wonderful memories for your family and friends.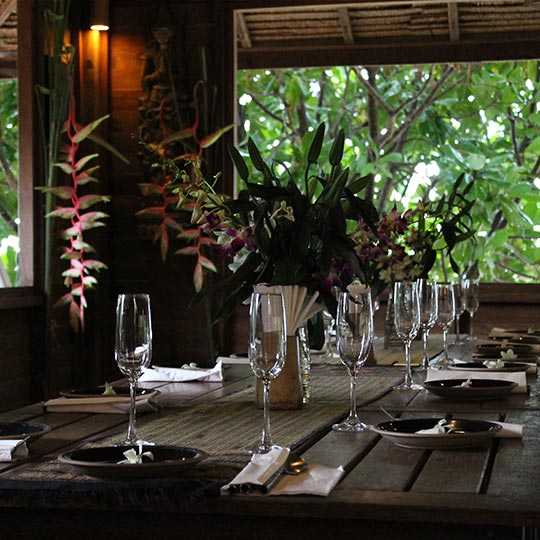 We regularly offer cooking classes to our guests. Thai cuisine is world famous for its versatility and strong aromatic flavors. You can learn to cook your favorite mouthwatering dishes from Castaway Restaurant's menu and then savor them afterwards. All this while enjoying the views of the sea and natural surroundings of our resort.
Our recipes are easy to follow and we use fresh local ingredients. We can tailor the recipe choice to your dietary requirements: most Thai dishes can easily be made vegetarian. Each student will receive the recipes that have been cooked and a little souvenir from us. Email us for more details.
In the afternoon our Restaurant and Bar are buzzing with excitement thanks to the 'Best Happy Hour' on Koh Lipe. From 4 to 6 pm we offer all cocktails and long drinks at 2 for the price of one rate.
Our chill ambient music is hand picked and makes the sea front and the beach atmosphere magical. There is a variety of seating options – guests can sit right on the beach or enjoy our atmospheric deck.
With each cocktail we offer free nuts mix and on the menu there is also a mouthwatering selection of snacks and tapas style dishes to choose from.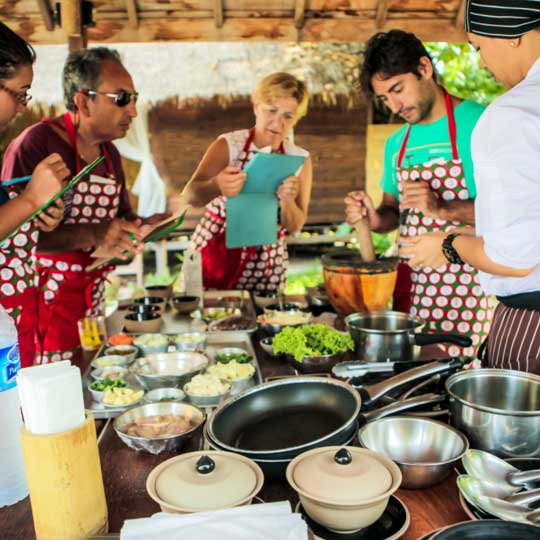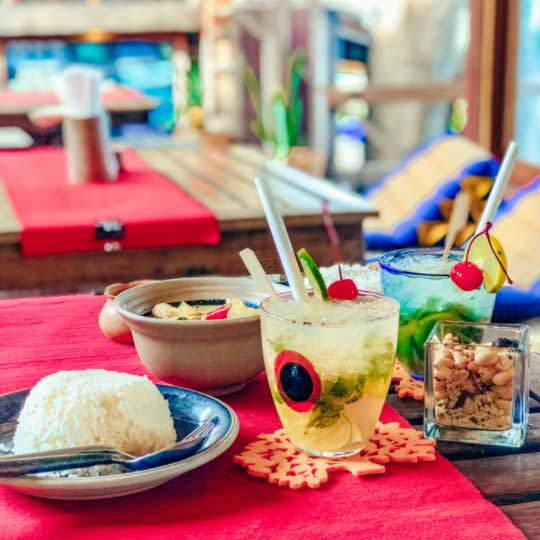 Battered seafood to die for! This is an experience! Right on the beach and wonderful nooks and crannies to feel secluded and relax whilst eating. I recommend strongly the battered seafood mix. Perfectly cooked. My party and I have never tasted better!
We loved this restaurant for its sunrise views, great food selection, and breakfast cocktails available (Buck's fizz = quality mimosa). The Khao Tom porridge is a great Thai breakfast option, with pork, chicken, or shrimp in a rice porridge with shredded galangal and Thai spices. Ambiance is incredible. Prices are a little inflated relative to other restaurants on the island, but it seems like we are paying extra for cleanliness, quality, attentive service, comfortable seating, and the view - things that almost no other restaurant on the island can offer
Great food, great drinks, chilling music and very very good staff. The cocktails are worth to try different once, especially the yom tum who is freaking spicy. The view is great and its just a great place to be and to relax